Picking up my monthly meat share makes me feel like a superstar. This is how I walked home with my stash tonight.
Imagine what squats and milk would do to that.
Anyway.
Welcome to the May edition of Herondale Farm Meat CSA Recipes from a Person Who Lives on the Same Block as Beyonce's Little Sister.
If you didn't know, that would be me.
Now.
I am not going to repeat the Deluxe Steak Method I've been posting about since this blog started. Instead, here's some delicious shit to put on your steak  - ditch that nasty steak sauce, it's full of additives, sugar and crap.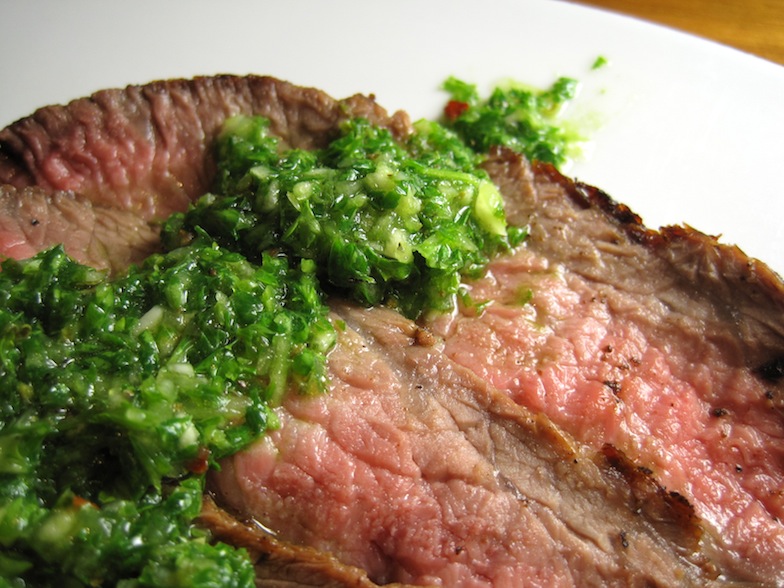 Argentinian parsley and garlic sauce. Totally addictive. Stupid easy. Don't make it more than an hour ahead, though. It doesn't keep. Put it on your porterhouse (Rob's favorite cut), your sirloin (mine), or your T-bone Burnett - any steak that you grill, broil or sear in your heritage vintage cast-iron skillet.
Sirloin Tip Roast
I was pleased as punch to pull this out of my bag. Apparently I wasn't the only one; I caught Corbett cradling his protectively after he finished his deadlifts. 
Anytime you cook a roast like this, please take it out of the fridge and out of the packaging an hour or two before you begin cooking it.
1. Herb-rubbed sirloin tip roast
This recipe has 802 reviews, zero bullshit ingredients, and good instructions. I wouldn't use a baking sheet like they suggest (I'd use my vintage heritage Griswold cast iron skillet) but you are welcome to do so. Since I prefer medium-rare, I'd use my meat thermometer to take the roast out once it registered 135 in the center of the roast.
2. Simple Grass-fed Sirloin Tip Roast
This nice lady has some how-to photos, a slightly simpler herb rub, and some thoughts on the differences in cooking times for grass-fed meat. 
Beef Cross-Cut Shanks/Soup Shanks
Pretty sure these are the same cut. Confirmed with the farm - they are the same thing.
We already talked about these here - option 1, the red wine recipe, is one of my favorite recipes of the year.  Please try it.
After you suck all the meat off the bones, rinse them, and either make stock right away, or toss them into a ziplock and back into the freezer for stock later.
Pork Chops
I adore the chops from Herondale. I went on a heritage Hungarian "Mangalitsa" pork kick when the meat first appeared in New York about a year and a half ago, and spent a small fortune on Mangalitsa pork chops. They cook up red, like beef, and are very delicate tasting.
But honestly? I like the chops from Herondale better.
Chops are the perfect weeknight supper. Regardless of your participation in the CSA, you should always, always, always have some in your freezer.
I always cook mine in a hot, dry cast-iron skillet, and I've never felt the need to brine them. I told you about my foolproof method here. On the side, I love cold raw sauerkraut straight from the jar. Oh my god. I'm getting emotional.
Cabbage season is kind of over, but if you're attached to it the way I am, you might not care. So you could also serve your chops with braised red cabbage with bacon. 
Guacamole is another natural side dish for pork chops. Dave Byrd makes a killer guac.
This time of year, I'd saute up some asparagus to cuddle up to my chops. You should try that.
Stew Meat
We discussed this already. Please refer to p. 365 of your manual. If you make any of these, won't you please let me know what you think? Especially if you agree with me that Epicurious' Hearty Beef Stew with Green Peas and Carrots is a motherfucking home run? 
Hot Italian Sausage
I will give five dollars to anyone who tries this:
Beer-simmered grilled Italian sausages
(Note: sub olive oil for vegetable oil. Actually, if you even still OWN vegetable oil, give me the five dollars back.)
 What I usually do with Italian sausages is fry them for breakfast, split open. Best thing to make with them? 
Sweet potato home fries cooked in bacon fat
Ingredients:
Sweet potatoes (2 medium potatoes per person)
Duck fat
Salt
Directions:
1. Peel 2 sweet potatoes with a vegetable peeler.
2. Grate them on the large holes of a box grater (or use the grating attachment on your food processor.)
3. Over medium-low heat, heat enough duck fat in the bottom of a cast iron skillet to liberally cover the surface of the pan.
4. When the fat is melted, crumble the potato shards into the pan, salt them lightly, and stir to coat. Flatten them with a spatula.
5. Cook for a few minutes until they begin to brown and clump up. Let them get a bit crispy, then flip and repeat. Cook them until they are as brown as you like, tasting repeatedly because the flavor will amaze you.
6. Eat them with your sausages.
7. Thank me when you see me.
Well, that's it for this month - the last month of the current Herondale meat CSA cycle. Sign up via the gym if you want in for the new cycle, which begins in June and runs through November.
In closing, Solange Knowles thanks you for your patronage. She's just another neighbor here on Union Street, where we chillin' with the stinky gingko, the Brooklyn pigeons, and fifteen pounds a month of grass-fed heaven.
March: in like a lion, out like a lamb.
Really? We've had no winter to speak of. Isn't it more like, in like a kitty cat, out like a hamster? In like a pet goldfish? Out like a big, soft, adoring Rottie mix who looks at you with deep brown eyes and centuries of empathy and obedience?
Yes, this March is just like that.
Welcome to the March edition of Help a Sister Out with Some Recipes Associated with the CFSBK-Herondale Farm Meat CSA.
Here are my picks for what was in our bags this month.
London Broil
London Broil is a preparation method, not a cut; it is broiled/grilled marinated flank steak.
Our "London Broil" is likely top round steak, but I won't put any money on it either way until I defrost it and see what's what. Regardless, I know what I'm going to do with it.  Marinate. High heat. Be sure to cut it against the grain when I serve it. To myself.
1. Got a grill, indoor or outdoor? Make Filipino-style London broil.
2. Crockpotting? Make Everyday Paleo's spinach-stuffed London broil  (requires butterflying the meat, which is easy - just ask me.)
3. Broiling it, like Mom used to do? Make marinated London broil, just leave out the soy sauce (or sub coconut aminos, like I do.) 
Stew Meat
I just finished a huge pot of beef stew that I could not get enough of.  This recipe is potato-free but doesn't suffer for it, and incorporates vegetables only at the very end, which keeps them crisp and in delicious contrast to the rich meat.
1. Hearty beef stew with green peas and carrots
Seriously, kids, I love this one. I just left the 3 TBS of flour out. It has 146 reviews and over a 90% "would make again" rating on Epicurious. That's the shit right there.
2. Herbed beef stew with sugar snap peas
This one is next on my list. Sugar snap peas are about to be in season.
I totally lied about the snap peas being next. Forget them. This one is next. Olives, chiles, tomatoes. My heart.
Ground beef
We've never talked about this. Pumpkin chili. My favorite meat loaf. Picadillo. White trash tacos.
You need more ideas? Talk to Mel over at The Clothes Make the Girl. She's got a bunch of ground beef recipes, and a bitch knows her way around a spice cupboard.
It's getting warmer, so I'm always looking for quick-sautee type dishes. Try this Asian ground beef, mushroom, and broccoli slaw lettuce cup recipe from Nom Nom Paleo. Another extremely dependable source for good grub.
Steaks
Pork chops
Beef shanks
Italian sausages
This is what Herondale Farm itself recommends; go to the recipe page and select Italian sausages to view the recipe.
Boneless pork roast
Or you could make pernil, which you definitely will want to do if you've ever eaten it. You can't make it as well as any actual Latin person, but as a confirmed Gringarican I can tell you that you're likely to be thrilled with any approximation you churn out.
——————————————
Ta-da! That about does it for this month's edition. Let me know if there are any cuts we missed, recipes you want to discuss, or delicious variations you want to share. See you at the Paleo Pot Luck!